About D-Wing Construction
When it comes to repairing or replacing your roof, choosing the right contractor for the job will likely be one of the most important choices you make as a homeowner.
D-Wing Construction has been a trusted home improvement and remodeling contractor in Fox Valley Area since 2001. We add value and beauty to our customers' homes by providing the best products and solutions and quality workmanship.
When you choose D-Wing Construction, you'll get the peace of mind, outstanding service and professional integrity you deserve.
About the Owner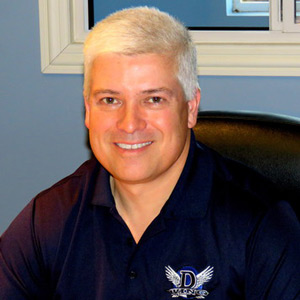 Dave Mirra of D-Wing Construction
Owner Dave Mirra comes from a family with a history of success in the construction and building products industry. He earned his electrical engineering degree from Purdue and his masters degree in management from the Kellogg School of Business. After working as a consultant for Corporate America, Dave's passion for construction and a desire to implement best practices led him to return to the construction industry in 2001.
As the owner of D-Wing Construction, Dave is continuously looking for ways to deliver the highest level of customer service and value to customers.
Outside of work, Dave is an avid outdoorsman and enjoys golf and spending time with his wife and two children.
Recent Testimonials
"Steve was excellent in helping us find what we wanted in our budget and the team transformed the look of our..."

Marisa B. of Naperville, IL

"I've used D-Wing twice. Once for new roofing, and a second time when I needed new siding. Both times their..."

Paul M. of West Chicago, IL
Our Mission
Our mission is to earn our customers' trust. To add value and beauty to our customers' homes by using only the best quality building materials and workmanship. To minimize damage to our environment by supporting "green" construction practices and to uphold all ethical business practices.